Land Acknowledgment
The place we now call Quartz Mountain was once part of the ancestral lands of several indigenous societies, including the Kiowa, Osage, Quapaw, Wichita, Comanche, Caddo, and Kickapoo nations. The Oklahoma Arts Institute at Quartz Mountain recognizes the original stewards of this land, and we extend our deepest appreciation to them. We strive to follow their example as we care for this beautiful place we call home.
Today, 39 distinct tribal nations call Oklahoma home, each of them contributing uniquely to our state's rich and diverse cultural landscape. We are grateful for the opportunity to learn from and collaborate with our indigenous friends and neighbors, and we are committed to fostering an equitable environment where all who gather at Quartz Mountain are united by a love for the arts and compassion for one other.

Quartz Mountain History
Archeological evidence suggests Paleo-Indian people hunted wooly mammoth near Quartz Mountain as far back as 20,000 years ago.
Spain and France traded Quartz Mountain several times before the U.S. bought the area as part of the Louisiana Purchase in 1803. Several Native American tribes occupied the area until the late 1880s. Throughout the 19th century, the United States government forcibly expelled hundreds of thousands of sovereign tribal citizens from their ancestral lands, exiling them to Indian Territory, now the state of Oklahoma. The lands surrounding Quartz Mountain were assigned to the Chikashsha (Chickasaw), Chahta Yakni (Choctaw), Kiowa, Comanche, and Apache nations during this period of forced removal.
In 1887, Quartz Mountain was affected by the Gold Rush, but the U.S. military regained control of the region and opened the land to white settlement in 1901. The tiny town of Lugert was flooded to create a municipal water supply for Altus in 1927. Today, Lake Altus-Lugert also provides irrigation for 48,000 acres of southwestern Oklahoma farmland.
In 1937, Quartz Mountain officially became a state park.
Quartz Mountain State Park & Lodge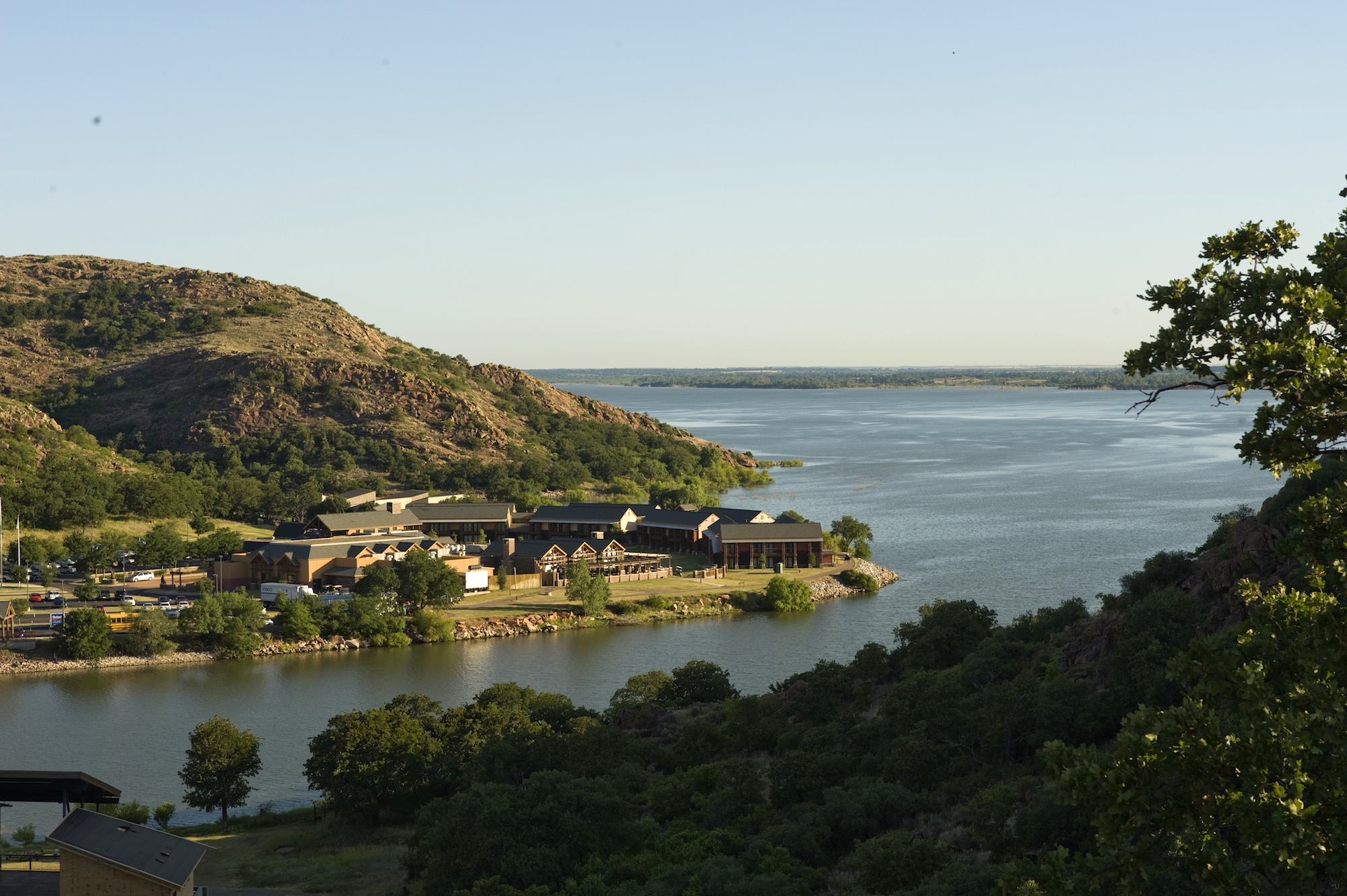 Home to Oklahoma Arts Institute programs since 1978, the Quartz Mountain State Park & Lodge is a state-owned facility of the Oklahoma Tourism & Recreation Department. Located in Lone Wolf, Oklahoma, the facility overlooks the peaceful waters of Lake Altus-Lugert. With the 700-seat Robert M. Kerr Performing Arts Center, a state-of-the-art darkroom, five studio pavilions, an outdoor amphitheater, and the Beverly Badger Memorial Library, Quartz Mountain is the region's artistic epicenter. Nature lovers enjoy hiking and biking trails, bird watching, and unique Oklahoma ecosystems. Quartz Mountain is truly an Oklahoma treasure.
Quartz Mountain Ecology
Quartz Mountain State Park lies in a "buffer zone" between drier western climates and wetter eastern ones. As a result, there is a great diversity of habitats and plant and animal species inside of the park.
Quartz Mountain is in the mixed-grass plains district. Tall grasses and herbs grow on valley floors, while short grasses, prickly-pear, and yucca grow on the unprotected hilltops. The most common type of tree in Quartz Mountain State Park is the scrub oak. Many types of flowers grow at Quartz Mountain, including gaillardia (Indian Blanket), coreopsis, prairie larkspur, sunflower, spiderwort, and milkweed.
Three distinct habitat regions ensure the presence of a variety of amphibians and reptiles. The eastern bullfrog and the narrow-mouthed salamander live near the lake and a variety of toads and lizards live on the hilltops. Several species of snakes, including rattlesnakes, live in the hills and in the central region of the park. Many mammalian species also make Quartz Mountain their home, including the bobcat, eastern cottontail rabbit, desert cottontail, raccoon, jackrabbit, deer mouse, ground squirrel, coyote, and beaver.
Quartz Mountain State Park is a paradise for bird watchers. The majestic bald eagle winters at Quartz Mountain, and white pelicans and Canadian geese migrate through the park in the spring and fall. In the summer, the Eastern black-chinned hummingbird, bluebird, flickers, woodpecker, and wren live at Quartz Mountain. The lake and streams draw ducks and cranes. Red-tailed hawks and great horned owls make the mountains and grasslands their permanent homes.
Since Quartz Mountain State Park is a region of high diversity and physiographic contrast, the area is particularly suited for the occurrence of rare or endangered species. Some of the rare and endangered flora and fauna found at Quartz Mountain include the prairie falcon, golden eagle, bald eagle, green toad, mountain lion, mountain barrel cactus, waterfalls phlox, and western live oak.