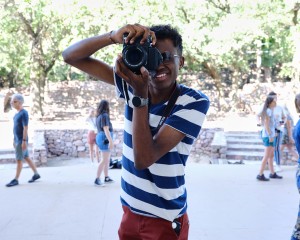 Over the past month, the hallways of public schools and performing arts centers across Oklahoma have been filled with young artists auditioning for a spot at the 2020 Oklahoma Summer Arts Institute at Quartz Mountain. Our staff traveled to 18 locations, crisscrossing the state from Miami to Altus and Alva to Idabel, in order to facilitate auditions by some of Oklahoma's most talented high school students. Along the way, we also met many dedicated educators—like the visual arts teacher from Hugo who drove her students two hours to an audition because she knows the life-changing difference an experience like the Summer Arts Institute can make on a young person.
More than 30 adjudicators are now hard at work reviewing short films, trumpet solos, poems, paintings and more, and we will soon tabulate the scores from nearly a thousand auditions to identify the 270 students who will be invited Quartz Mountain this June.
Thank you to all of the passionate band and choir directors, media, English and art teachers, dance instructors, principals, acting coaches and others who hosted auditions and helped us get the word out this season. We couldn't have done it without you!