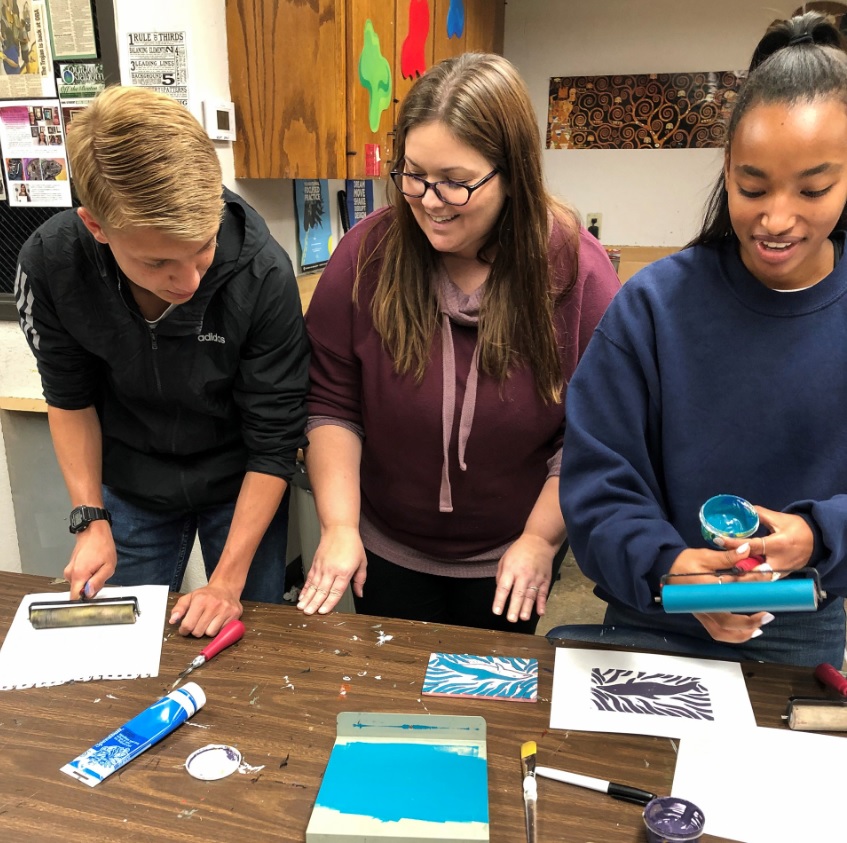 Lacye Swilley Russell had become a professional at being an adjunct. At one point six years ago, she was teaching nine different art classes on three different campuses in a single semester. Despite the notorious adjunct drawbacks — low pay, no benefits, lack of job security — she loved her college students and was happy to be living out her life's dream of being an art professor and artist.
But when her husband's job took them to Enid, there was only one college within an hour's drive, and it didn't have an art program. Though she had never imagined teaching high school, Lacye accepted a position at Oklahoma Bible Academy (OBA), a small private school where she would be the sole art teacher.
"I was kind of terrified at first," says Lacye. "But when you get down to it, there's really not a lot of difference between a crazy 20-year-old college student and a 12-year-old. Besides some maturity issues, they're actually pretty similar."
In the five years she's been at OBA, her small group of art and photography students has achieved a huge amount of success. Three of her 18 students were accepted into the 2021 Oklahoma Summer Arts Institute (OSAI), an astounding acceptance rate considering the program's competitive audition process.
An impressive string of OSAI acceptances isn't the only way Lacye's students are distinguishing themselves. This past year, her students were the recipients of two Exceptional Merit and five Merit Awards at the Oklahoma Student Art Exhibition, 11 Gold Keys and five Silver Keys at the Scholastic Art Awards, two Merit Awards at the Young Talent in Oklahoma competition and two State Superintendent Awards for Arts Excellence.
"Most of my teaching experience stems from teaching at the college level, so I've always had high standards," Lacye says. "I always keep pushing, and I absolutely love seeing students build their confidence."
Many students and adjudicators say confidence is key to auditioning for OSAI. Talent, drive and determination are all essential pieces of the puzzle — but performing your craft in a competitive setting requires a trust in oneself that Lacye works to build every day. She experienced this transformative power of art under the guidance of a supportive teacher in her youth. "I was a very shy kid, and art showed me confidence," Lacye says. "My art teachers, and later my art professors, believed in me."
If a student shows particular interest in a medium Lacye doesn't practice, she'll learn what she can to support them.
"I try to find the kid's passion and then figure out what I can do to help grow and push it," Lacye says. "Even if I know nothing about it, I'm going to try to learn something about it so we can keep going."
One of her photography students, OSAI alum Jackson Morgan (film & video '20), was always telling her about movies he had recently watched. Lacye didn't have a background in the artform, but she learned alongside her student to help him achieve his goals. "I said, 'Well, hey, let's do a film. I know nothing about filmmaking, so I would need to teach myself, but I know a good film when I see one.'"
Last year, she gave Jackson an assignment to make a movie over Christmas, and he used that film to audition for OSAI. He got in. To Lacye's delight, Jackson earned the same honor again this year as did fellow OSAI alum Parker Schovanec ('19,'20) and Reagan Redelsperger, both in the drawing and painting discipline.
"I have just as many photos on my phone of my students' artwork as I do of my own children," Lacye laughs. "They have no idea how incredibly proud I am of them."
As an art professor, Lacye sometimes wished her college students were coming in with more of a solid technique, so they could use their time instead to develop their vision and flourish. She recently realized that teaching high school gives her the ability to do something she couldn't do as a college art professor.
"[When I was teaching college], I always knew the type of student that I wanted, but in their freshman year, they weren't always there," says Lacye. "Now that I'm on the flip side, I know how to get my students ready to thrive in their college art department." Lacye's experiences with supportive art teachers had a profound impact on her career choice, which today leaves its mark on students like Jackson, Reagan and Parker who are off for a life-changing experience this summer at OSAI 2021.
"I am one of those lucky people who knew what they wanted to do since they were a kid," Lacye says. "I had an amazing art teacher in elementary school, and I wanted to be just like her. Later I realized that all of my art teachers truly loved their jobs. I never once wanted to do anything else."
---
---