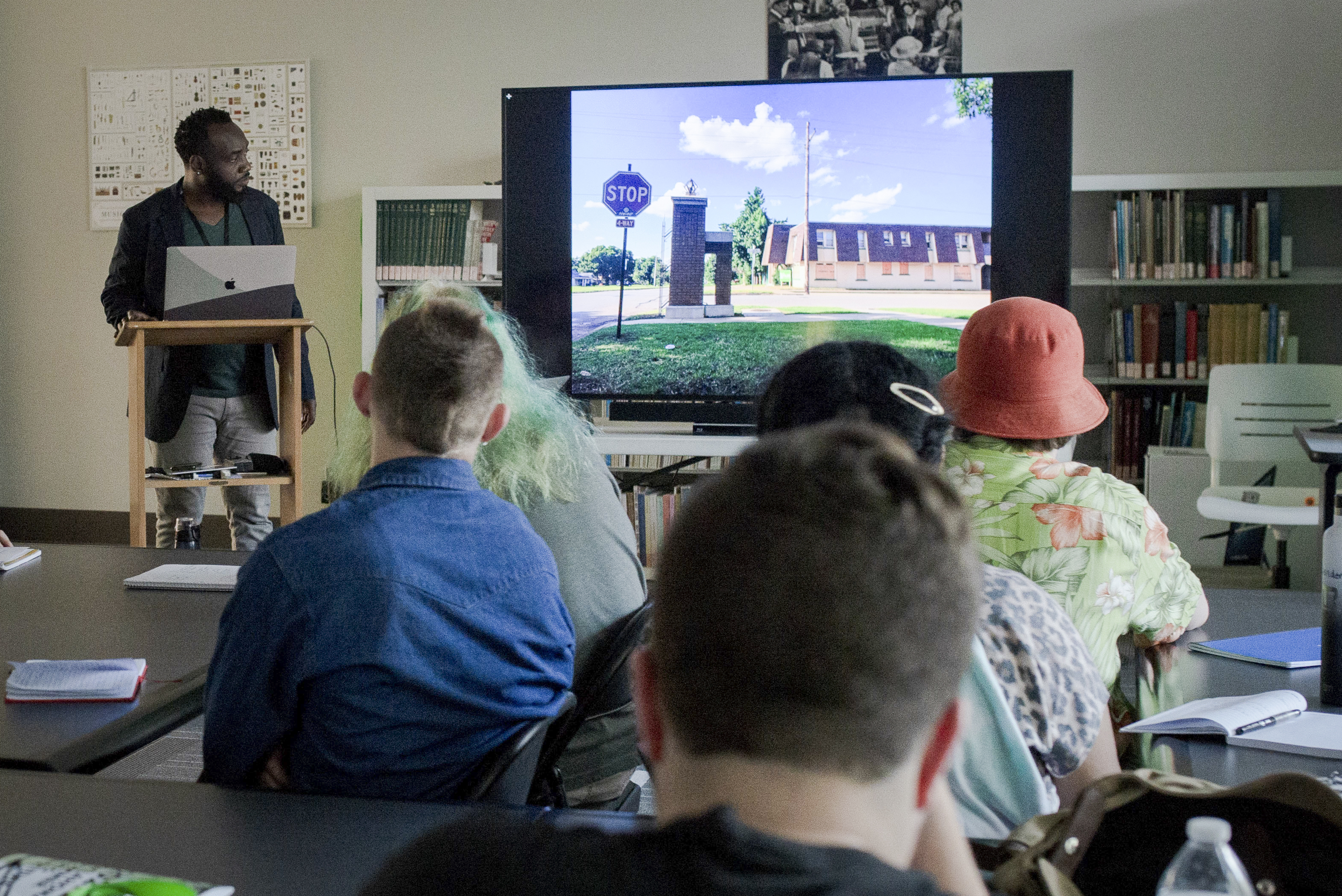 Stories are important to filmmaker Alrick Brown. During a recent presentation for OSAI 2021 students and staff, this year's film & video instructor talked about the power of storytelling and its central role in his art. "Film is just a medium," he said. "Storytelling is the craft."
Brown is assistant professor of undergraduate film and television at NYU, and his cinematic reach includes credits as director, producer and writer on a variety of projects, including ABC's Final Witness, ESPN's short doc series Spike Lee's Lil' Joints and Investigative Discoveries' Emmy-Award winning series, A Crime To Remember. His work has earned several honors, including the HBO Life Through Your Lens Emerging Filmmaker Award and the Sundance World Cinema Audience Award.
We talked to Brown about his experience so far at Oklahoma's Official School of the Arts, and his hopes for the young filmmakers of OSAI 2021.
---
So, how is the first week of OSAI going?
Well, this is my first time [here], and it's fun. I was really nervous, because I wanted to make sure I did right on behalf of the students, and the schedule is pretty intense. But the students are amazing; the faculty are amazing; the facilities are amazing. So, I'm happy. It's not a big-smile-on-my-face kind of happy, but it's the kind of happy where you go out and you see the sun, and you're like, "OK, yeah — I feel good. This is where I'm supposed to be right now." I'm excited to see what the students do.
Has anything about the experience surprised you?
You know, I have very high expectations of my students and of people. But I'm not surprised that people have met them. All the organizing and the planning has been really expert; all of the faculty presentations have been solid; my students have been solid; my liaisons and collaborators have been solid. So it's surprising, but in the sense that I wanted it to be this way, and it happened to be this way. I'm excited that it's what I expected — and that can be a surprise sometimes, you know, because you expect things to kind of go wrong. [Laughs.]
How has OSAI been different from other teaching residencies you've been involved with?
I've been part of other programs, but never anything on this scale. Most programs are insular. You're learning one thing or the other. And that can be good, but these students are exposed to something I've never seen before in any program. They're housed with, eating with and experiencing other artists and other disciplines. They're not just learning what they're learning. They're learning on the periphery, understanding a little bit of what goes into composing and music and dance and painting and acting. They're having a renaissance experience at summer camp. I don't know of any other program like this.
---

"My students step in unison because they have each other's backs. They know each other's weaknesses and strengths. So, my classroom, I don't call it a safe space. I call it a brave place. And they create bravely."

- Alrick Brown, OSAI 2021 Film & Video Instructor

---
Can you talk a little about your teaching philosophy, and how it's been playing out in your classroom so far?
Last night, a student asked me about the greatest lesson I've learned. I started talking about trust. I've been thinking about that question for a while, because I tell the students on the first day, "I can't teach you unless you trust me." And so I really try to build an environment where we trust one another and we feel safe to share. That way, we can fail, we can fly, and we can create in a much more wholesome and holistic way. It's not just about filmmaking; it's about collaborating and learning how to problem solve. And if you're always on eggshells, it doesn't work. But if you're on eggshells and you know that if they crack, no one's going to hate you for it — or if you fall, someone's going to catch you — it's a different environment.
So, my classroom should feel like that. I'm a community builder. We are a good gang. My students step in unison because they have each other's backs. They know each other's weaknesses and strengths. So, my classroom, I don't call it a safe space. I call it a brave place. And they create bravely.
What do you hope your students walk away with at the end of these two weeks?
I hope that at the end of these two weeks, these students know themselves better. It's not just about knowing how to be better filmmakers. But if they know themselves better, they can take whatever lessons they've learned into other areas of life. Filmmaking encompasses problem solving and collaboration. It's a multidisciplinary art form. There's only so many things they'll learn on the surface, but what they're really learning about is themselves — how they take critique; how they see the world; what their aesthetics and their values are; what they care about, and what they don't care about.
If they can walk away with a better understanding of themselves, they take that back to their [high school] classrooms and to their college classrooms. They're better students. They're better human beings. They take it back to their families, to their communities, and they should see the world a little bit differently because of what they've learned here.
---
For a complete list of OSAI 2021 faculty, click here.
Back to News & Community.
---