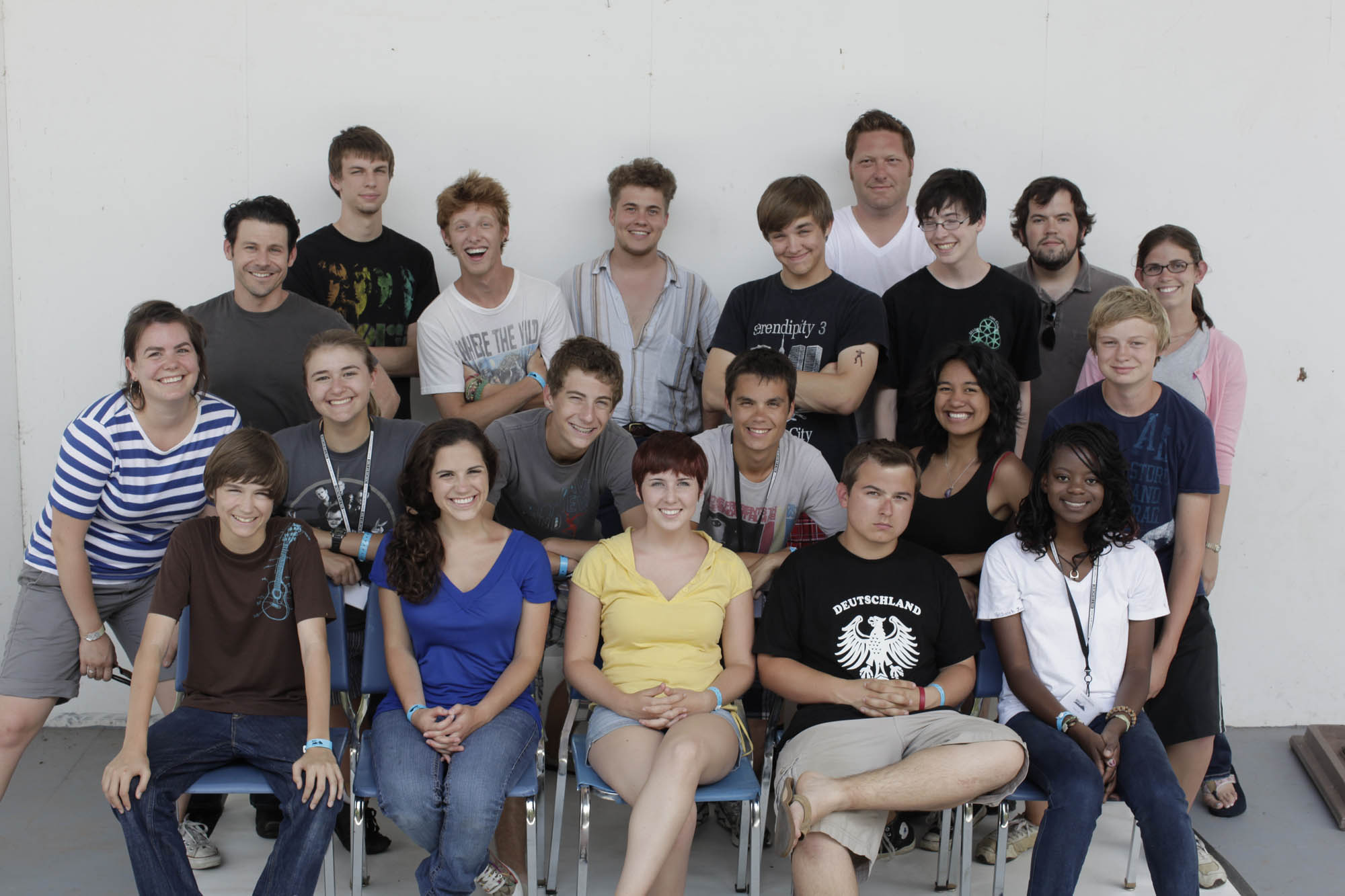 Documentary filmmaker Crystal Kayiza elevates stories of community — particularly related to the African diaspora in the United States — and explores their often overlooked narratives with nuance and empathy. See You Next Time, on the intimate moments of a New York nail salon, was screened as part of the 2020 Sundance Film Festival's documentary short film program. Examining the physical and emotional connections between a Chinese nail artist and her Black client, the film reveals how this business of beauty and transformation is a rare bridge between their two communities.
Kayiza's passion for nonfiction storytelling was sparked as a student in the film and TV program JPS Cinema at Jenks High School run by Clifton Raphael, yet it was at the Oklahoma Summer Arts Institute where she initially considered filmmaking as a career. Pictured: Kayiza at OSAI (front row, far right).
"It was the first time that I really felt affirmed in terms of film being something that I want to pursue professionally," she said. "Seeing how other people in the world are building careers as filmmakers was a really important experience as a young person, and so was getting to meet a community of passionate young artists."
OSAI was also pivotal in drawing her to stories of place told through the lived experiences of their people. With her fellow film students and their instructor, Bradley Beesley — director of documentaries like Okie Noodling (2001) and Sweethearts of the Prison Rodeo (2009) — Kayiza visited the small towns around Quartz Mountain where she was struck by the breadth of storytelling potential in her home state.
"My understanding and language around filmmaking completely changed after the summer," she said. She also was struck by how "the state is so diverse in terms of people's lives and what their communities look like," something she was familiar with as the daughter of Ugandan immigrants, but which expanded further through the on-the-ground filmmaking at Quartz Mountain.
She later attended Ithaca College in New York where she graduated in 2015 with a degree in Documentary Studies and Production. She then spent two years working on racial justice and the criminalization of poverty with attorneys at the ACLU before returning to documentary film. Now based in Brooklyn, her practice continues to be informed by social justice issues, with her film projects concentrated on the South and Midwest.
"Having a really accessible and intensive art experience back home grounded my work," she said. "It showed me the value of creating art in that space. A lot of the things that I've worked on over the past few years are a return to either Oklahoma or to places that reflect the communities that I was surrounded by as a young person."
For instance, All That Remains (2012), for which she received a Heartland Emmy Award, profiles the history and people of Boley, Oklahoma, which was established in the early 1900s by Creek freedman and is now one of the last surviving all-Black towns in the country. Meanwhile, Edgecombe (2018) features the rural Black community of Edgecombe County, North Carolina, and its history of systematic prejudice. Through the deeply personal truths of three local residents, Edgecombe is an examination of the ways trauma repeats and reinvents itself in rural Black communities.. Directed and produced through the Jacob Burns Film Center Creative Culture Fellowship, the film was selected for the 2019 Sundance Film Festival.
In each of these films, Kayiza centers the voices of her subjects to meditate on how their experiences embody the spirit of a place and its living memory of history. As Kayiza said, "I value telling stories where you are, and meeting the most interesting people and finding the stories of that community."
Story by Allison C. Meier