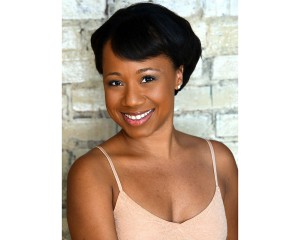 What were you like in high school?
I was quiet—much shyer than I am now—but also friendly. I was also really short. I grew five inches in college!
What's something you wish you could tell your younger artist self?
Being an adult is so much fun! I used to have a fear that time was going by too quickly because, as a dancer, getting older marks the end of your career. But, each year gets better and better!
Tell us about one thing you think can make an artist successful—and not necessarily in a financial way—just living up to their creative potential, living a fulfilling life, etc.
Don't be afraid to carve your own path. If there is something you want to do, and you don't see a way to do it, or you don't have any resources, you should feel empowered to create it yourself. The possibilities are endless. And you may create a resource for other artists who need the same thing.
Who is your favorite dancer, performer or choreographer? Or an artist in another discipline who has inspired you lately?
Balanchine is always my go-to favorite for choreography, just because I love his ballets, and he transformed an entire genre of dance with his vision. But lately, hmmm...I think Lin-Manuel Miranda is a genius...I think Donald Glover is crazy talented. I also love Issa Rae as an actress, writer, and director.
Tell us about one of your favorite moments/experiences as either a dancer, choreographer or educator…
I believe one of my most rewarding moments as a choreographer/director was in March 2018, when my company Dance Canvas celebrated our 10th anniversary. When I walked out on stage to welcome the audience and talk about the company, it hit me that an idea I had as a young dancer, and a little company I started just so that I could have a platform to choreograph, had grown and flourished. For the anniversary event, we brought back my favorite choreographers from the past 10 years, and I stood there feeling really excited about the next 10 years.
How do you get through stressful times, like the one we're in now?
I enjoy sitting outside in the quiet by myself. Taking deep breaths and finding time in solitude helps me a lot during stressful times.
To read Angela's full bio and meet the other OSAI at Home instructors and guest artists, follow the link below.