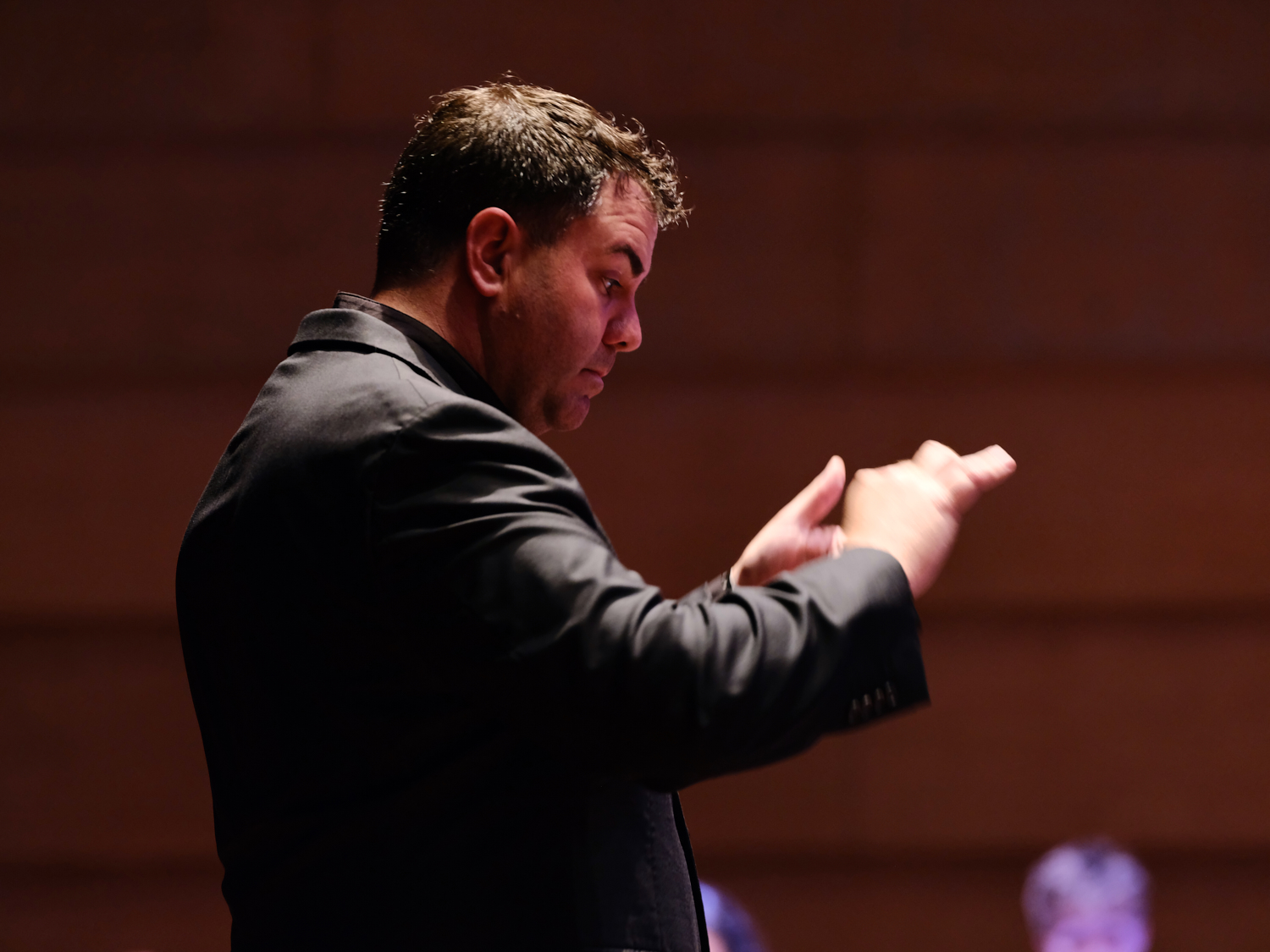 While spring has sprung in Oklahoma, a new season has also begun for the Oklahoma Arts Institute and President & CEO, Dr. Robert Ward. Although the time spent in his current role at OAI has spanned only a few weeks, Ward has served in a variety of roles at the Oklahoma Summer Arts Institute for nearly two decades.
Ward, a McAlester native, attended OSAI as a chorus student from 1996-1998 after being encouraged to audition by his parents. "My dad said 'I think you should audition for this,' and set the hook by saying OSAI was really difficult to get into and that people thought highly of it. That challenge motivated me to audition," said Ward.
After experiencing OSAI as a student, Ward returned for many summers to serve as a counselor, counselor coordinator, technical director, and faculty member, conducting the Institute Chorus in 2019. We sat down with Ward to discuss his seasoned past with OAI and the exciting things to come on the horizon.
---
So, take me back to when you were first a student. What sort of things do you remember?
My first year as a student was 1996 after the lodge burned down, but we were still at Quartz Mountain in tents and yurts and different things. I also attended in '97, at Northeastern in Tahlequah, and in '98 at OU. Before auditioning, I had no expectations. I didn't really understand what it was, but I auditioned and was selected. At that time, the choir was I think 26 singers so it was a very small group. It was a very unique experience, not only from elevating my understanding of what choral music could be, but also being around other artists and other art forms. I really identified as an athlete at that time more than an artist, but that was a tipping point for me in thinking about my future in the arts and what the possibilities were.
Were your parents involved in the arts?
I come from a very artistic family and a line of teachers. My grandparents were elementary teachers and, in their generation, elementary teachers incorporated music in their daily teaching. My mom played clarinet and was a singer. She never pursued music full time but always did on an amateur level, and even directed a handbell choir when I was growing up at our church. My dad was a little more active, he was a singer as well. I think he might have pursued music professionally had the Air Force not been his path, but wherever he went he sang with semi-professional choruses as his career took him around the country.
When he retired, he was the church choir director at our church, so my mom and dad were kind of the music ministry at our church in McAlester. Music education runs through our family. My sister is a flutist and received a music education degree at Oklahoma State like I did. My other sister played in the marching band at Oklahoma State. But it doesn't stop there, Uncles and Aunts, and cousins are all involved in their own way.
You also served as a counselor after your three years as a student. How would you compare and contrast your time as a student versus a counselor? Was the magic the same, or just different sides of the same coin?
Yeah, it is very similar in a way. I mean, when you're a student you're with your sort of cohort—people your age, you're meeting people from around the state from different backgrounds, from different art forms, all those things. When you become a counselor, you're with a group of people that are kind of in your same place as far as trying to figure out what you're doing in the world, what your pursuits will be, all of those different things. The experience clearly is different because you're really there to work and foster relationships with the students and make sure that they have success, but then you also have these relationships with your fellow counselors. When I think back on all the years I've spent at Quartz Mountain as a counselor and counselor coordinator, I also think about all the people that I've worked with that were counselors with me and have kept up with them as they've emerged in their art forms and careers.
I think when you come back as a counselor, most of the time you know what you're going into because many counselors are alums and you kind of know what the experience is a little bit, but it's different. It's a different, positive experience but you're in this world between being a mentor to the students but also being mentored by the faculty members. It's another learning experience in that way.
---
---
"There's the feeling that's been exactly the same in all 18 summers that I've attended, this feeling of gratitude for having had the experience and sadness for having to walk away from it."

- Rob Ward, OAI President & CEO
---
---
What sort of skills or things did you pick up in your time as a counselor and as a technical director? Lots of improvising I'm sure.
Oh gosh [laughs]. As a counselor, learning to work with diverse personalities and [how] to get the best out of people in a very short period of time is a difficult leadership task. I learned over my time that not everybody is wired like I am. You can find what any one individual does really well and you figure out how to utilize that, and it doesn't have to fit perfectly.
As the technical director, it's actually very different because you're working with faculty about what their vision is and trying to accommodate that while also keeping in mind what our limitations are being so remote. You're adapting with what we have on hand at Quartz Mountain and in a very short timeframe. You have to take the vision of the instructor and help shape that, which requires a lot of different skills. Whether it's building sets or helping them figure out how their vision can fit into what we can do at Quartz Mountain, as well as things like running the air conditioning system and wrangling rattlesnakes and all of the things that come with being at a state park.
What do you think sets OSAI apart so much from programs in other states?
First of all, the scenery and the surroundings at Quartz Mountain is extraordinary. It is really an environment that surprises everyone when they come to Oklahoma and is conducive to falling in love with your discipline, the process, and the experience. I think that's an intangible thing that other places may not have. I also hear about the students from Oklahoma and their eagerness and willingness as well as their ability to soak up a ton of information rapidly and then to produce. That's a credit to the teachers, the school systems, and students who audition and come with an open mind and an open heart to get as much out of the program as possible. And finally, I think what our staff is able to do as far as bringing in incredibly talented faculty and organizing things in such a way that the faculty are free to do their work without obstacles in their way. We provide counselors, liaisons, and technical staff and the amount of effort that goes into producing the programming from our office to free the instructors and the students to do what they want to do, I think, sets us apart, and this is purely based on what people have told me about their experience at Quartz Mountain.
Do you have a favorite OSAI memory from any of the summers that you've attended? I'm sure there's a long list.
Gosh, that's a tall order. I'll never forget, we stayed in group camp my first year and our first activity of checking in and getting into our cabin—or bunkhouse, in that case—they made us walk from the from group camp over to the lodge as a sort of "don't miss the bus" reminder. I met one of my best friends who is still a very good friend today, Bennett Stuckey, who is an orchestra director in Fort Collins, Colorado. He and I talked on that mile-long walk and became fast friends. We spent the next three years together, thick as thieves, attending OSAI.
As a student in Tahlequah in 1997, they had a big fountain and we filled it with dish soap and we all stood in it at one point to take a photo. In 1998 at OU, Mary Gordon Taft, who was the programs director and one of the founding minds behind the Arts Institute, would address the audience before every performance and ask to turn off any watches or, at that time, beepers or anything that might "ping" and the entire audience would yell "Ping!" as loud as possible. I remember giving her a ping golf hat that just said "Ping" really big across the front of it. She very proudly popped it on her head. That was a tradition that has since subsided but was something that that I remember fondly.
I think one memory you hear a lot about is when the power went out at Quartz Mountain and people got out their flashlights and whatever light they could, and tried to light the stage as best as possible and the orchestra finished their performance in the dark. That's a memory that you can try to imagine, but to experience it was really something remarkable.
When I think about the Summer Arts Institute in particular, I think about closing ceremonies and that sort of bow that you're putting on the end of the two weeks and what that that feeling is and that emotion. They're all similar in a way, you have these moments where you're cheering for the counselors, applauding the students and the faculty, and finally the chorus and orchestra perform. There's the feeling that's been exactly the same in all 18 summers that I've attended, this feeling of gratitude for having had the experience and sadness for having to walk away from it.
What are you most looking forward to in this next chapter of OAI?
First of all, I'm incredibly humbled to be in this position but excited to have the history that I do and to be able to carry on the traditions and the work of the Arts Institute. I'm also curious about what the next steps are and what the future will look like because what we do is incredible. With things like a new program coming on the horizon, I think there are going to be opportunities during my tenure to explore new ideas and to grow our program in ways that may or may not be large, but are meaningful.
Ultimately, we as Oklahoma's Official School of the Arts are here to serve the students, teachers, and artists of Oklahoma. I am a teacher and I come from a teaching background, so I know what it's like to teach in a public school and a private school, and to try to get students involved in programs and motivated to think about how they will engage in the arts in their future, whether that's as a professional, as a supporter, or an amateur. Part of my vision and my goal is to figure out how we can best support that in our teachers and our students in the state, not just with the programs we provide but with the resources we can provide.
---
For more on the 2022 Oklahoma Summer Arts Institute, click here.
Return to News & Community.
---