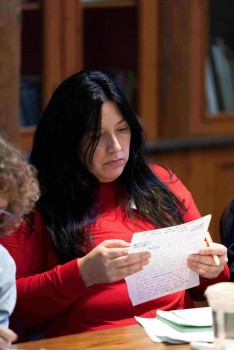 Twahna Hamill is working to keep the Choctaw language alive. An avid reader in her youth, Twahna was fascinated by the Choctaw language books that were passed down by her great aunt, and she knew early on that she wanted to become fluent. She majored in English with an emphasis in writing at Southeastern Oklahoma State University, where she also took Choctaw language classes with the late instructor Curtis Billy and was a member of the Native American Center.
Nudged by mentor Chris Wesberry, Twahna secured a grant to fund a master's degree in Native American Studies with the goal of becoming a teacher. She discovered literature by Native authors that changed the way she saw herself, struggling to find the balance between her identity as an individual and as a member of the Choctaw Nation. "You're in hybridity," a professor told her. "You're simultaneously in two worlds."
After graduating, Twahna became an English teacher, weaving Native American literature into the curriculum as often as she could. Despite doing what she could in the classroom to reconcile her hybridity, she never quite felt fully content. Until a Choctaw elder reached out to her, "yank[ing] her right back" to her roots and urging her to become a Choctaw language teacher.
"Your tribe needs you," said Teri Billy, her former teacher Curtis Billy's wife. Twahna fulfilled her contract as an English teacher, then began a new position with the Choctaw Nation's School of Choctaw Language this fall. She now teaches Choctaw to high school students across Oklahoma—out of Curtis Billy's old office.
"I'm what you would call the third-generation gap," Twahna said. "It's very cool to me that I'm teaching what was prohibited in my grandma's lifetime. I feel very blessed."
During her first week of teaching, a colleague sent her information about the Oklahoma Fall Arts Institute (OFAI) and encouraged her to apply for a scholarship. Out of more than 500 educators from every corner of the state who applied for a scholarship this year, Twahna was one of 314 participants to be awarded a spot. On October 12, she made the trip to Quartz Mountain for a workshop called "Writing for Children and Teens: A Crash Course" led by instructor and author Cynthea Liu.
Participants in the workshop drafted story pitches, shared and critiqued each other's work, and learned the process of publishing a children's book. She's excited to bring this information home to share with her students so they can create their own picture books using Choctaw words and phrases. Although she teaches both tribal and non-tribal students, publishing opportunities for tribal members are available through the Choctaw Artist Registry.
"I want these kids to know that they can take a step and attempt to publish it if they want to get serious about it," Twahna said. "Now I have these resources that they can go look up, and they can try to submit. If it's all done correctly, that's just more Choctaw language being published, which is a win for us and everybody."
While Twahna is excited to empower her students with what she learned, at OFAI she also had the opportunity to dream up her own stories. "Twahna brought me to tears when she shared with me the premise of her stories," said instructor Cynthea Liu. "Not only is her writing beautiful, but she is also a beautiful person with heart. It won't be long before her readers see this too, when her stories come to life in print!"
Although she doesn't want to give any story ideas away quite yet, she's eager to begin writing books for her eagerly awaited first grandson.
"Language is the lifeline of our sovereignty and in order to preserve this vital aspect of our culture, my goal is to help record and create through writing and journalism of elders' stories," Twahna said. "We have a strong, rich history of oral traditions, and while this is beautiful in one way, we are noticing our first speakers' rare sounds and are finding ways to keep preserving these crucial components of our culture through lessons of language. As a descendant, reading Native American literature was a pivotal instance in my life where I made the decision to persistently pursue writing and many descendants of the world never experience this moment to relate or feel that cultural connection in the arts, my hope is to share the written form of expression for them, with them."
For more on the 2023 Oklahoma Fall Arts Institute workshops for adult artists and educators, click here.
Return to News & Community.