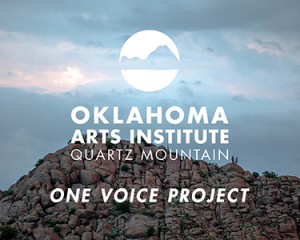 Thank you to everyone who submitted a video! The final project is currently being edited and will be available on this webpage soon.
Join OAI under the leadership of alumnus and 2019 Institute Choir conductor Dr. Robert Ward as we come together through song with OAI's first-ever virtual choir performance!
Even as we are socially-distanced and sheltered-in-place, our OAI family can show our interconnectedness through an arrangement of "One Voice," by The Wailin' Jennys (Ruth Moody, Nicky Mehta, and Heather Masse).
On "One Voice," songwriter Ruth Moody makes a lyrical call for unity and harmony, which resonates with us now as we collectively grapple with the COVID-19 pandemic and all its implications. The song is an artful reminder that although we are apart for now, we are not alone.
OSAI alumni, fall participants, counselors, donors—no matter your connection to OAI, if you are a vocal musician, we hope you will participate! We can't wait to sing along with you!
Step-by-Step Recording Demo and Q&A
led by OSAI alumnus and 2019 Institute Choir conductor, Dr. Robert Ward
Monday, April 20, 2020 at 3:00 p.m. CST
Deadline for submissions: Sunday, May 3, 2020
Things you'll need:
A video/audio recording device, like a smartphone. You may also use a computer, but final recordings must be submitted as an MP4 or MOV file.
An audio device from which you can listen to the accompanying instrumental and tempo track

Note: If you plan to record yourself with a computer, you will be able to listen to the accompaniment track and record from the same device.

If you record yourself with a phone, you will need a separate device from which you can listen to the accompaniment track.
Headphones or earbuds
Sheet music and accompanying instrumental track
How to record yourself:
1. Set up your recording space and devices to get the best possible audio and video quality.
Recording DOs
Find a blank wall in a quiet, well-lit room. The more sound-dampening, soft surfaces you have the better (curtains, carpet, furniture, etc.). Bathrooms and kitchens are typically bad. Bedrooms are usually best.
Make sure your space is quiet. Listen carefully for ambient noises that will mess up your audio, like auto traffic, airplanes overhead, a TV in another room, a refrigerator, noisy pets, family members chatting, etc.
Dig up that OSAI t-shirt from 1992! This is not a requirement, but if you've got an OSAI shirt, we'd love to see you in it for this project.
Make sure you're a couple of feet away from any walls—it's better for the audio. If you can, record in the middle of the room, singing out into a few feet of open space rather than into a wall or other hard surface.
Set up your recording device so you are centered in the frame, in a horizontal, medium close-up (roughly from your shoulders to a few inches above your head). In general, sitting two feet from your camera should be a good starting point, but you may have to adjust. Position your video camera at eye level—think straight on.
Use a tripod, or find a way to set your device up so you are recording hands-free and not handling the camera/microphone. This will ensure for a stable image and quality sound.
Have an external microphone or high-quality camera? Feel free to use it! However, it is not necessary to purchase any equipment for this project. The built-in microphone and video camera of your mobile device or personal computer are perfectly suitable.
Recording DON'Ts
Don't set yourself directly in front of hard surfaces, like walls or tiles. And don't set up in a bathroom! While you may think the acoustic quality sounds nice live, there are too many hard surfaces that will distort your recorded sound.
Don't be a "Backlit Betty." Keep the light source in front of you. No recording with your back to a window.
Don't forget that you're always on, even when you're not actively singing. Smile and act as though the entire song is a live performance. Those bits when you're swaying along and dancing will give our editors more footage to work with!
Don't record your video in a vertical layout! We know we already said this, but…
Don't add any special effects or filters to your recording.
2. In the accompaniment recordings, you will hear three metronome clicks followed by a verbal count in and one clap. Please count and clap along, so that we can synchronize the audio and video for the final project.
3. Practice the song and record a few takes while listening to the accompaniment track in your earbuds. (I.e., the only sound we want on your video is your singing!)
4. Check your playback for sound quality. If your sound levels seem too high, try moving back from the microphone. If they seem too low, come closer.
5. Once you have a recording you are happy with, please rename your file accordingly: "VocalPart_LastName_FirstName.FileExtension" (e.g., Soprano_Doe_Jane.mov) and submit at the link below.
Due to editing constraints, some video submissions may not be included in the final cut.
Deadline for submissions: Sunday, May 3, 2020