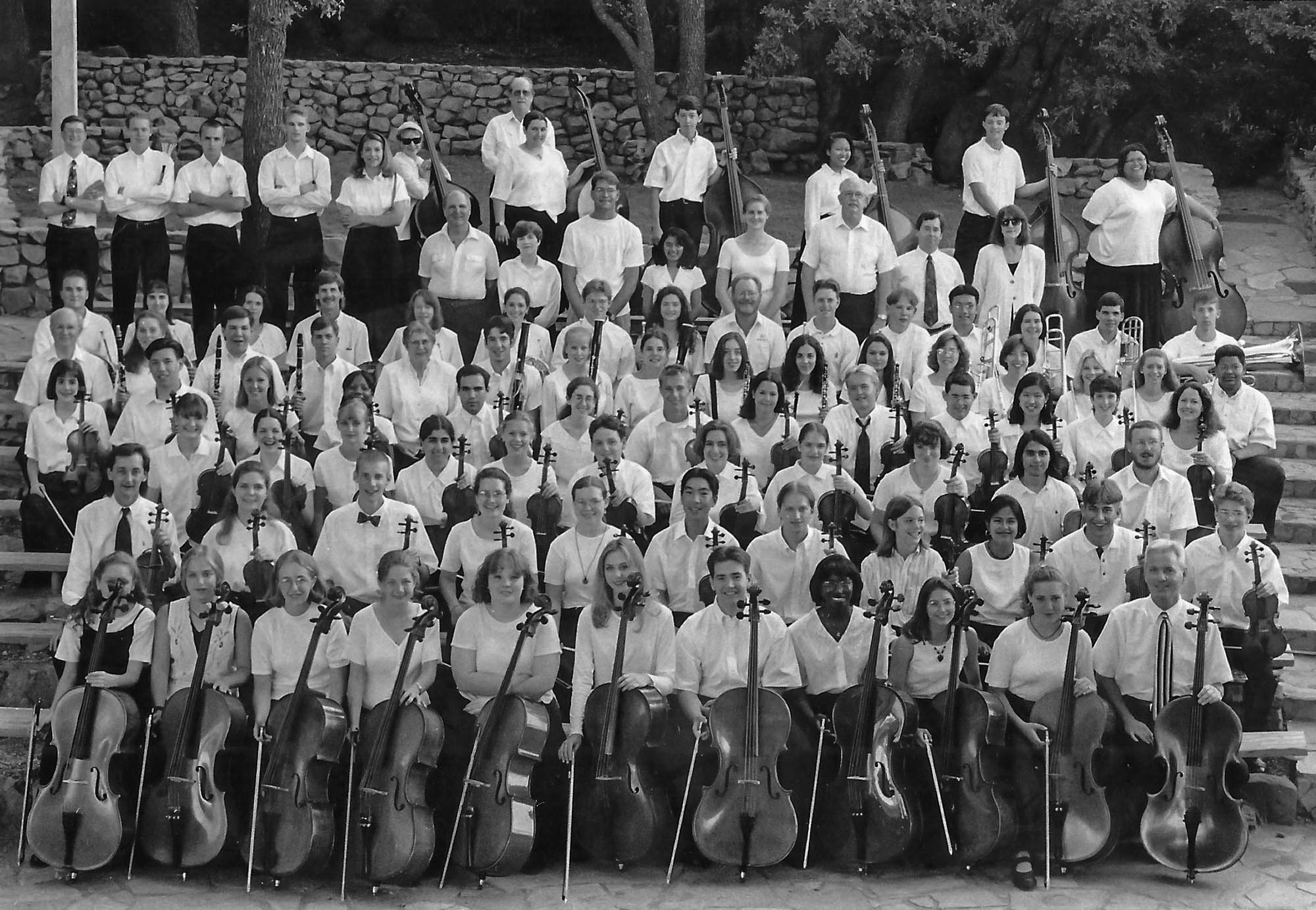 Travis Maril, accomplished musician, teacher and father of two, has only been back to his home state of Oklahoma once since he graduated from high school. But that will change this summer when the OSAI alumnus returns to teach viola in the same place his love for the instrument blossomed over 25 years ago.
"The whole idea of coming full circle with a camp and an experience that was… an impactful part of my development in terms of getting serious about music and getting serious about the arts," said Maril, "is really, really special for me. I'm excited to be able to share the things I've learned since then with people who are exactly like [I was] when I was there."
Maril grew up in Stillwater, where he began to love music from a young age. "All of us were really involved in vocal music," he said, recalling his family's shared interest in singing. "My elementary school had a choir that we need to get up early for in the mornings. I remember starting in fourth or fifth grade and liking that a lot."
For Maril, growing up in Stillwater meant access to a whole world of music. "Stillwater is right in between Oklahoma City and Tulsa but it also has some nice features," he said. "Random people [would] pass through to perform at [OSU] that we would go to concerts for. I remember seeing the Ying Quartet and The Chamber Music Society of Lincoln Center and other things like that."
Maril was not always so enthusiastic about music, however. "At that point, I was actually much more into martial arts, so my mom bribed me into going to a summer strings thing in Stillwater by saying if I did it, I could go take this class where I got to play with swords, and I was like, 'Okay, alright, I'll do that.'"
At that summer strings course, Maril met music educator Mahlon Halleck, who would go on to be Maril's first private instructor. With the guidance of a mentor who "had a tremendous impact on [his] development and enthusiasm as a young musician," Maril's confidence started to grow, along with his love for the viola. "I think I fell in love with it partially because it was one of those things where like, I wanted to be really good at something and I just happened to be good at that. After I discovered I was good, that was when I started falling in love with the instrument a little bit more, which is a really sort of backwards kind of way of doing it."
In 1996, Maril attended OSAI for the first time as a 15-year-old violist, and can be seen in the top image in the third row from the bottom, sixth from the left. "That was one of my very first summer music camps that I've ever gone to," he said. "That was super awesome for me because I had not done, at that point, a lot of big orchestral stuff, it had mostly just been strings, even the honors orchestras and stuff like that… I definitely had not been in the situation before where I was just playing music all day long for weeks!"
---
---
"I'm excited to work with those students and give back to a program that gave me a lot. That feels very special."
- Travis Maril, OSAI 2022 Viola Instructor
---
---
By his junior year of high school, Maril had honed his musical talent enough to win a section position at the Tulsa Philharmonic, playing alongside seasoned orchestral musicians as a teenager. Ironically, that leap forward in his musical career almost jeopardized his academic future. "I'd get home at 11 or 11:30pm and have to go to orchestra [class] and get there by 7am. I was a really good student and I almost ended up getting my only bad grades in school in orchestra, because I missed so many classes or I was late."
While at OSAI, Maril also discovered that the interdisciplinary nature of music could be a major source of inspiration. "The setting itself I remember was really special," recalled Maril. "I really liked that there was sort of cross pollination with the other arts… I remember liking that there [were] people in my cabin that were representative of the other arts and getting to meet some of those people."
This summer, Maril hopes to instill in his students a sense of discovery and exploration.
"One of the things I think is important is developing a sense of an experimental mindset," he said. "I find that when students adopt that mindset, where they think about how to run experiments on their own, they start improving very rapidly. They're not depending on someone to just say, 'Hey, this is how you should do it,' but rather, 'Hey, why don't you try this? Why don't you try this?' which leads to 'I'm going to start running my own experiments.'"
Despite the long hiatus since his last visit to Quartz Mountain, Maril has high hopes that this summer will be as magical as ever. "I've watched some videos on the website and I'm impressed with the level of the orchestra. I'm excited to work with those students and give back to a program that gave me a lot. That feels very special."
---
To learn more about Travis and find the complete list of OSAI 2022 faculty, click here.
---
Return to News & Community.
---