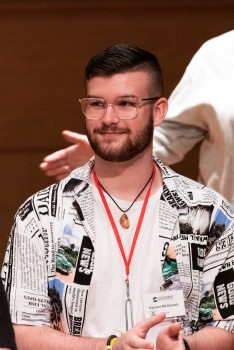 As a two-time OSAI chorus student, Danner McGarrah understands that music has the capacity to lift spirits and change lives. We chatted with him during OSAI 2023 to learn more about his inspirations and how he plans to nurture his love of music in the future. Danner graduated from Owasso High School this year, and in the fall he will begin a bachelor's degree in vocal music education at the University of Central Oklahoma in Edmond.
---
Can you tell me about how you got involved with music and singing?
I pretty much started singing as soon as I was born. My mom started singing me nursery rhymes, and music has been in my life ever since then. I first joined I wanna say church choir in 3rd or 4th grade, then joined school choir in 5th grade, and I really fell in love with it right after that and haven't looked back since!
When was the turning point when you thought "maybe this could be a career for me?"
I would say probably around junior, maybe sophomore year? I was at a new school. I went to Catoosa [High School] for a couple of years. I got to work kind of as a student teacher for part of the year, and I really loved getting to help some of the middle school kids work on solo and ensemble pieces, and I loved getting to collaborate with Mr. [Brian] Holloway, the director over there. I just knew after that I've got to be an educator, it's what I want to do.