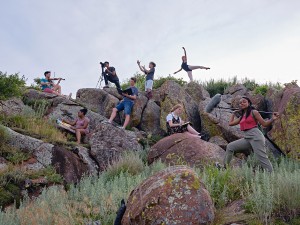 (updated January 28, 2021)
More than anything, we want to be back in person with our students in our home at Quartz Mountain next summer. Given the circumstances of the ongoing coronavirus pandemic as well as scheduled renovations at Quartz Mountain, we are planning a few changes for OSAI 2021.
1. OSAI 2021 will be held July 10-25, not in June.
We are thrilled that Quartz Mountain is undergoing much-needed facilities renovations. However, because the construction schedule is set to run into June, Quartz Mountain will not be available to us during our regular timeframe. Additionally, while many public health officials are projecting a return to normalcy next summer, those projections could change if there are any hitches in the rollout of the COVID-19 vaccine. To help avoid potential delays in construction or snags in the vaccine distribution process, we have pushed OSAI 2021 back to July 10-25. We did not make this decision lightly, as we know many students work during the summer or attend other programs with conflicting dates, but we feel this change gives us the best chance for meeting in person at Quartz Mountain.
2. OSAI auditions will start in January and will be held online in 2021.
In a typical year, we would have already posted the OSAI audition schedule, and online registration would be underway. But because of the rising number of cases of COVID-19 and increased restrictions at audition sites, we are moving the 2021 OSAI audition process entirely online. Auditions will begin in January, with the applications remaining open through March 15 and selections taking place in April. Specific audition instructions for each discipline are available on their respective pages of our website. To ensure you receive all audition updates, you can also sign up for our e-newsletter or follow us on social media @oaiquartz and turn on post notifications. We held a general information session via Zoom on Monday, January 25, and you can watch the recording below.
Watch INFORMATION SESSION Recording