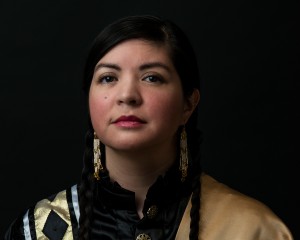 The summers that Elisa Harkins (Modern Dance '94, '95, '96) spent at Quartz Mountain opened her up to a side of dance that she calls "more cerebral"—full of storytelling and Greek mythology. In her work today as an artist and composer, Harkins preserves the histories, lesser-told stories and languages of her Muscogee (Creek) and Cherokee ancestors, often employing sculpture, animation, dance, sound design and film.
She's re-composed and performed hymns—protest songs in disguise—that were sung on the Trail of Tears, she's created canoe sculptures that serve as living memorials, and she's collaborated on sound-performance pieces about the untold history of a piece of allotted land in Tulsa. Those stories sometimes extend into the future, like in her performance piece, Wampum.
In Wampum, Harkins imagines herself as a futuristic pop star, singing in Muscogee (Creek) to original electronic dance beats, backed by two non-indigenous dancers.
"I like using [futurism] as a vehicle for storytelling and for imagining possibilities. Because a lot of the times when we talk about events that are in the past, they can really kind of put an emotional toll on someone," she says. "So by giving it futurism, it can give the worst more hope or more optimism."
Art Forum recently described her songs as "winsome" and her dance moves "Kate Bush-worthy." A video of Wampum will be exhibited at State of the Art 2020, the inaugural show at The Momentary, a new contemporary art and performance space satellite to Crystal Bridges Museum of American Art in Bentonville, Arkansas. As the only artist selected from Oklahoma, Harkins's inclusion in State of the Art marks her place as an important contributor to the contemporary art scene.