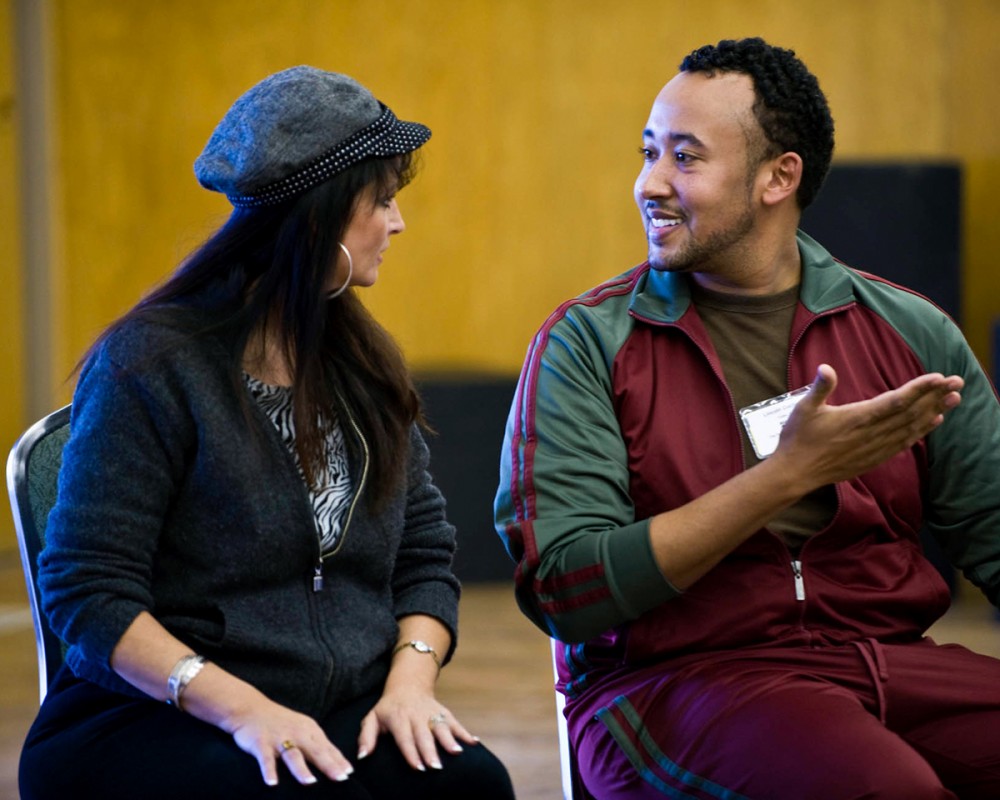 When Lincoln Cochran was the Director of Theater Arts at Booker T. Washington High School in Tulsa, he knew that not every one of his students was into theater. But whether they wanted to pursue careers in acting, engineering or the NFL, Cochran wanted them to be able to present themselves in public.
"We would get kids who didn't want to do it. And my thing was, 'You're going to come in here, and you're going to be your best self,'" Cochran says. So, on the first day of class, every student had to present themselves on camera, "which was very nerve-wracking for them," Cochran says. "But at the end of the year, they would have their own one-minute elevator speech about themselves, and I wanted them to at least have that, because that is so essential today."
The theater department put on six shows a year: two musicals, two plays, and two Shakespeare productions. No aspect of theater production education was omitted. He also taught students how to mop, vacuum and use a handsaw.
"You know, at Booker T., we were crazy, but the students never forgot it. I still run into parents and students, and they will be like, 'Oh, my God, do you remember those shows that we did? Can you believe we did that?'" Cochran says. "But the work was just incredible. And I led from a mode of what I had learned at Quartz Mountain."
Cochran has been around the OAI block a few times. He was an acting student in the summer of '96, then a counselor and acting liaison a few years later. When he started teaching at Booker T. Washington, he returned a few times for workshops at the Oklahoma Fall Arts Institute.
One of his favorite OFAI workshops was in 2010 when he studied acting with Mark Madama, who teaches musical theater at the University of Michigan.
"To have the exposure to the caliber of artists that [OAI] bring[s] is literally a lifetime of inspiration for each one. Seriously, because you meet these people and you know them. They know you, you learn to practice your craft together, and with admiration for each other's work and support in that way," Cochran says.
Almost four years ago, he was offered a chance to be an English Language Development (ELD) facilitator at Anderson Elementary School. It was difficult to leave Booker T. Washington. Cochran calls his time there a "life-changing, transformative experience." But by being an ELD facilitator, he saw an opportunity to help students without strong language skills, and therefore, equalize education in the classroom. He also saw the similarities between this role and his former role of teaching theater arts.
"It's the leveling of the playing field by including reading, writing, speaking and listening into every lesson, into every moment of learning in the classroom. And that really is what theater is, because you're speaking, listening, reading and writing, and then performing. All at the same time," Cochran says, "and now I'm in 30 classrooms at the elementary level, Pre-K through five. And I am literally with every teacher and every student. And I love it because it gives me the opportunity to help teachers be their very best for every child."
Continuing on the theme of leveling the playing field, Cochran also wanted to help bring art and education in the digital world, to make it more accessible. After he left Booker T. Washington, he started a company called My Info Tech Fame. The name is a play on the words: "information, technology, fine arts, media and education."
"The key to longevity with fine arts is blending them with technology," Cochran says. "But we have to make spaces for elementary, middle and high school students to begin to build their technology and arts creativity together, without being elitist or non-inclusive. And that's something that I'm working towards."
Cochran sees one silver lining with COVID-19, and that's that arts institutions are moving fully into the digital realm. He cites the Dallas Theater Center's decision to put their performances online as one example. Cochran has been exploring creating digital tours for Black Wall Street and Greenwood in Tulsa.
"The same technology that we would use in creating these virtual tours can be applied to any building, any structure, anything, you know. For instance, I see this painting in the distance in a gallery. I walk through the front door—digitally—and I go up and look at it. And so do 18 other people. That's what struck me most about this time, is that you can open your audience. More eyeballs are online now than ever before, and it continues to grow. There's no reason that every city in Oklahoma can't have a space that can connect artists with technology."
He would like to be a part of creating incubator spaces to help artists and institutions move into the digital realm. "We really want to connect people to each other so that they can be better, so we can all better our lives," Cochran says.
Recently, he was selected to be a part of the Oklahoma Arts Council's 2020 Leadership Arts program, which is where we caught up with him, during their first workshop at Quartz Mountain Arts and Conference Center in Lone Wolf. The Leadership Arts program trains a group of 30 individuals around the state to become arts advocates and leaders in their communities. The participants often work together to brainstorm ideas, problem-solve and connect others to potential resources.
"I'm already learning. It is literally the connection point in the first step to the work that I just spoke of," Cochran says.
He cites the 300 plus past participants in the Leadership Arts program as a community that will help people like him develop their ideas and form relationships.
"We need that connection point so that we can share ideas and grow them effectively. And that was what happened on the first day. And then you also get to hear how other people have experienced problems or situations that may be similar to yours. It's nice to hear that, you know, you're not the only person out there fighting for artistic equality for everyone."