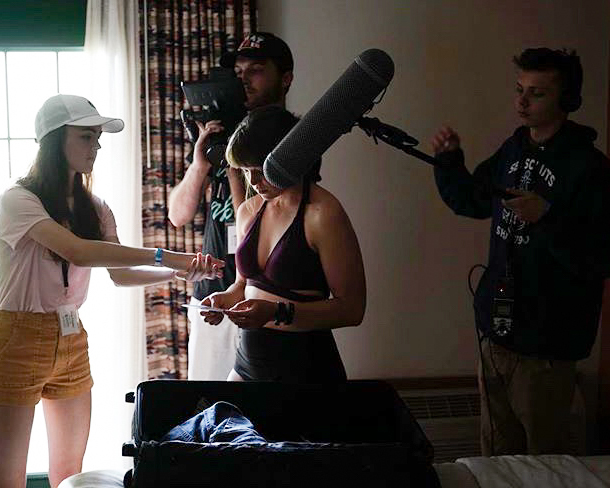 Two films made by Summer Arts Institute alumni, "The Big Kid" and "Poolside," were selected to be a part of the BisonBison Film Festival April 3-4. Read the stories behind the making of each film. The full list of the alumni involved and their years of OSAI attendance are listed at the end.
The Big Kid
The Summer Arts Institute had ended, but a group of students were still itching to make films together. So Paul Dower, Josh Eliot, Molly Erwin, Ian McDougall and Colton Tompkins reunited to compete in the 48 Hour Film Project in OKC last summer.
Erwin, now a freshman theater student at UCLA, says she was thrilled when the co-creators, Dower, Eliot and Tompkins, called and asked her to play the lead role in their film.
"At Quartz Mountain, you just find these genuine connections with people," Erwin says. "And ultimately, it's about collaboration and finding people that you work really well with, and that respect you, and respect your art, and can see your full potential."
Eliot says it wasn't just the technical skills he learned at Quartz Mountain that were so important.
"Going to Quartz Mountain taught me a lot of stuff about filmmaking that I didn't know, but I think the thing that affected me the most was getting to know other filmmakers, like Paul and Colton," Eliot says, referring to the two other co-creators of the film
The three are now roommates and film students together at Oklahoma City University. "They're some of my best friends, and I feel like that's one of the reasons we're such good friends at college now—because we had that connection beforehand at Quartz."
These relationships came in handy during the 48 Hour Film Project competition. Their first challenge—having to choose between making a film in the "detective genre" or the "animal genre" as part of the competition stipulations—was met with a bold choice. They would do both. "The Big Kid" is about two detectives who are trying to solve a murder with only one witness: a goat. The goat, Daffodil, lives on Eliot's family farm.
The team's next challenge? Having to write, shoot, edit and deliver the film in under 48 hours. While they heard that other groups didn't sleep for two days, "The Big Kid" team found the process fun, didn't stress, and got (almost) seven hours of sleep a night. The three sat in Eliot's basement writing and bouncing plot twist ideas and lines off of each other.
Before OSAI, many of the Film & Video students had become accustomed to working solo and playing every film production role themselves. Part of the students' training at OSAI was learning how to work a specific job, for example, as the editor as opposed to the director, so that the crew could function better as a whole.
"At Quartz, I learned how to work on a team, especially on a team of people that I don't know that well," Tompkins says. "I also learned how to just be a smaller part of a bigger project."
McDougall, who also played a lead role in the film and is now a sophomore theater major at Occidental College in Los Angeles, says, "I learned that it's important to keep an open mind and that it's my job to be directed. I was definitely more stubborn going into [OSAI] than I was coming out of it, and that was a good thing."
He studied with legendary NYC-based acting instructor Grace Kiley while at Quartz Mountain. He says that Kiley taught him to be more spontaneous and less rehearsed. It was a skill that would come in handy while working on "The Big Kid."
"I certainly had to use those skills on that film because there wasn't a lot of time to learn my lines. I got the script the day before," McDougall says.
But it was Erwin who may have had to be the most spontaneous. Spoiler alert: Daffodil, the goat, was also the murderer. And Erwin's character was her next victim. To get Daffodil to "murder" her, the crew covered Erwin in food that only a goat would find palatable.
"There is a moment when I have a violent encounter with the goat. That was pretty interesting because goats are kind of like dogs or any other animal in that they're easily distracted, so we just had to place food on me, to essentially get it to come onto me," Erwin says. "But it was a good experience. I'm glad I don't have any goat allergies. And they definitely chose the kindest of the goats to work with."
"The Big Kid" won both the Audience Award and the Producer's Choice Award at the 48 Hour Film Competition in June 2019.
Poolside
Another OSAI alumni film selected for screening at BisonBison was a narrative short about body image and that ultimate psychological battleground—the pool. "Poolside" was made during the 2019 Summer Arts Institute and was written, directed and edited by Halle Frieden. Joe Gooch was the director of photography, and Lizzie Forman played the lead role. Forman was also a counselor and acting liaison at Quartz Mountain that summer.
Before OSAI, Frieden had always worked by herself, and mostly on documentaries. During the making of "Poolside," she worked with an assistant director, director of photography, sound designer, a lead actor and many, many extras. It was an experience that was both challenging and educational.
"Before Quartz Mountain, all the films I made were pretty much by myself, so I didn't really understand how to work with a crew, or how to direct a bunch of extras. The instructors were really helpful, like Al Novey, he was on the set almost all the time, helping me improve my director's skills," Frieden says.
She's now a freshman at Tulsa Community College, where she plans on majoring in film. Frieden will also be working as a production assistant on Martin Scorsese's latest film, "Killers of the Flower Moon."
Gooch, who is currently a freshman at Oklahoma City Community College and recently joined the Navy, says that shooting a narrative film centered around a pool with numerous extras had its challenges. In one scene, one of the actors would be pushed into the pool, so it needed to be filmed in one take. If they missed the shot, they would have to wait for the actor to dry out, which would delay the filming schedule.
"We had one of the RED [cameras] at the end of the pool on a tripod, and then I had another RED on my shoulder, filming one character push another into the pool. It was really scary doing it because we knew it was a one-take sort of thing," Gooch says, "so the fact that we nailed it on the first time was really exciting."
He says that one of the reasons the film was such a success was because of the team's
ability to learn their roles, and then also come together in a synergetic manner.
"We had a really good connection and chemistry with each other, and we knew exactly what we were doing," Gooch says. "Without collaboration, you can't do anything."
The Big Kid Credits
Director/Writer: Paul Dower (Film & Video '18)
Writer/Director of Photography: Colton Tompkins (Film & Video '16, '17, '18)
Writer/Editor: Josh Eliot (Film & Video '16, '17, '18)
Lead Cast: Molly Erwin (Acting '17, '18, '19)
Lead Cast: Ian McDougall (Acting '17)
Assistant Director: Halle Frieden (Film & Video '18, '19)
Poolside Credits
Director/Writer/Editor: Halle Frieden (Film & Video '18, '19)
Producer: Faith Christner (Film & Video '17, '18, '19)
Lead Role: Lizzie Forman (Acting '11, '12)
Director of Photography: Joseph Gooch (Film & Video '18, '19)
Sound Designer: Cole Bergersen (Photography '18, Film & Video '19)
Assistant Director: Grace Mills (Film & Video '19)