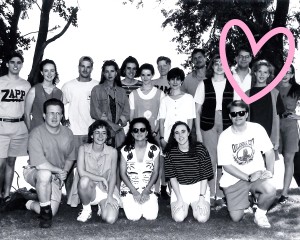 In celebration of Valentine's Day, we want to share one of our favorite Quartz Mountain love stories with you. Meet Mark and Jennifer—two OSAI alumni and former staff members who've made Quartz Mountain magic into a family affair.
The Wonder Years
As young students growing up in Norman, Mark Osborn and Jennifer Wade were each on a voracious pursuit of their chosen art forms—Mark a musician and Jennifer an actor. Being close in age and highly involved in the arts, one might think they ran in the same circles and shared plenty of mutual friends.
"I started playing bass in fourth grade," says Mark, "and I mean, the Arts Institute was what everybody did who played an instrument."
Jennifer adds, "I was always in rehearsal for one show or another. My English teacher, actually, she's the one that encouraged me to audition [for OSAI]. She said, 'you know, you're really good, and you should just try it out.' And I was lucky enough to make it that first year."
They even overlapped as students at the Summer Arts Institute. Mark played bass in the Institute orchestra from 1985 through 1988, and Jennifer attended to study acting in '88. But the two never crossed paths at Quartz Mountain.
Still, they had the shared experiences that all OSAI alumni are familiar with.
Mark explains how it feels to make the drive into the Quartz Mountain State Park and see Lake Altus-Lugert for the first time: "I remember my parents driving me down there and that long two and a half-hour drive. You know, you go through the little mountains, and no trees for a long time, these little bitty towns and windy roads. But then you get close to Quartz Mountain, and you're on the other side of the lake. And then everything is just like…whoa."
"You start feeling the little tingles as you just are driving in," adds Jennifer.
"It's, I mean, it's really neat," says Mark.
As fate would have it, that magnetic pull from the water, rocks and hills of Quartz Mountain State Park eventually brought Mark and Jennifer both back to the Summer Institute as counselors.
Returning to Work at OSAI
"I became a counselor because I was looking for more stuff to do during the summer that was orchestra oriented," explains Mark. "Being a counselor there was great because there were a lot of my friends from OU down there being counselors, too."
Jennifer continues, "I was in nursing school at OU, and one of my clinical professors mentioned that she was a camp nurse to the Oklahoma Summer Arts Institute every year. And I said, 'Oh my gosh, I went there!' And so she, said 'Well, you should come and be my assistant and be a counselor.' And I was hooked," she continues.
When asked about the difference between attending OSAI as students and working as counselors, Jennifer replies, "I would say that you experience the exact same "feels" as a counselor that you did as a student. There's just no way to describe that experience of being completely immersed in the arts and around other people who are just as passionate. Even though I had taken a different route for my career, I still…"
"We just wanted to be around it more because it was such a part of our lives," Mark continues for Jennifer. "It was just such a part of us, you know, that from being there, even if it was just one year for you, Jennifer, OSAI is just that big of an experience that you want to keep going."
Quartz Mountain Magic
In addition to working as an orchestra liaison, Mark was the performance videographer for several years at OSAI. He made a pretty unforgettable first impression on Jennifer.
"The first year [I returned], as the counselors were all arriving, we had a tornado warning! And we're all, you know, hunkered down in the hallway between the guest rooms, and Mark," Jennifer stops to laugh, "is like, leaning out the patio door, and he's videoing this twister!"
"It was right there! It came right over the top of the mountain. The old lodge used to hug the mountain right there," laughs Mark.
"Our first year, we were just, you know, friends. And then I think it was the next year we may have had the same day off, and we went to eat and do laundry. So we got to know each other better and started getting to be really good friends. And then we started dating, I think, the fall after that," Jennifer says.
"And we dated for five years before we got married in the summer of 2000. We are solely a product of OSAI," adds Mark.
"One year, we were at the first orchestra concert," Jennifer begins relaying a charming anecdote, "My only exposure to orchestra was from Quartz Mountain when I was a student. They were playing the Enigma Variations [by Edward Elgar]. I was so moved by "Nimrod." I was sitting there by Mark, and a little tear just started going down. He reached over, and he held my hand. I knew right then I was going to marry him. That's kind of "our song," so we had that played at our wedding. And then, on our first anniversary, he was doing a fellowship with the National Symphony Orchestra in DC. And so I went out for our anniversary, and they happened to play the Enigma Variations in the National Cathedral on our anniversary. It was pretty nice."
All in the Family
The Osborns settled together in their hometown of Norman. They have continued to work in music and nursing, and they have two teenage daughters. Their youngest, Mallory, is a talented soccer player. And Trinity, who's been dancing all of her life, is also an OSAI alum!
"We always had our kids in the arts when they were little bitty," Jennifer says of her girls. "I mean, they learned to walk and stand up holding onto the bass, while Mark was practicing. Or he would let them do the—what's it called?"
"Pizzicato," Mark answers.
"Yes, and playing little songs and things from the time they were little," she finishes.
Trinity chimes in, "I took the "tiny tutus" classes for, like, two-year-olds. And then, um, I think probably when I was about five, six, I started going to the Marjorie Kovich School of Ballet, and I have been there ever since. And then, obviously, I've heard about Quartz Mountain my entire life."
Trinity attended OSAI at Quartz Mountain in 2018 to study dance with Lisa Attles and André Tyson, and she participated in last summer's OSAI at Home—an online version of the Summer Institute held in response to the COVID-19 pandemic.
"After the summer of 2018, I really just fell in love with Quartz. In my cabin, we were all very close. Every single night after cabin meetings, we'd stay up till like 1:00 AM, 2:00 AM talking or playing games or whatever, and we'd get up early and go hiking together," says Trinity.
"When we took Trinity [to Quartz Mountain]," Jennifer says, "and we hit that ranger station at the park entrance where group camp is, I mean, I think I started bawling right then. Because I knew what she was going to experience and get to have."
Mark adds, "We told her that this was going to be something like she's never experienced before, even though it's different than when we went. On the way home, we took that drive out and she was like, 'I get it.' She has had multiple outings with people from that first year; they've had Quartz Mountain sleepovers and get-togethers."
"Yeah, the winter after Quartz, we tried to have a get-together over winter break. And I drove up to Tulsa last summer and saw some dancer friends," says Trinity. "I've kept in pretty good touch with a lot of the people. So it was definitely different being at home [in 2020]. It was harder to connect with people, but I still loved the teachers and counselors and liaisons," Trinity explains.
"It's just part of us. You can't know what it is until you experience it. As soon as Trinity got down there that first year, I think there was a closeness that we were able to have because we had had the same experiences," says Mark.
Jennifer goes on, "It just brings beauty into your life, and I would not have had that without Quartz Mountain. The only exposure I had to all of that is through Quartz Mountain."
Trinity is currently in her senior year at Norman North. She is hopeful to have one more chance to enjoy the Summer Arts Institute this July, and in the fall, she plans to study Government and Native Studies at Dartmouth University.
To see throwback photos of Mark and Jennifer, visit the OAI Timeline or check out our Instagram post here.
Happy Valentine's Day!