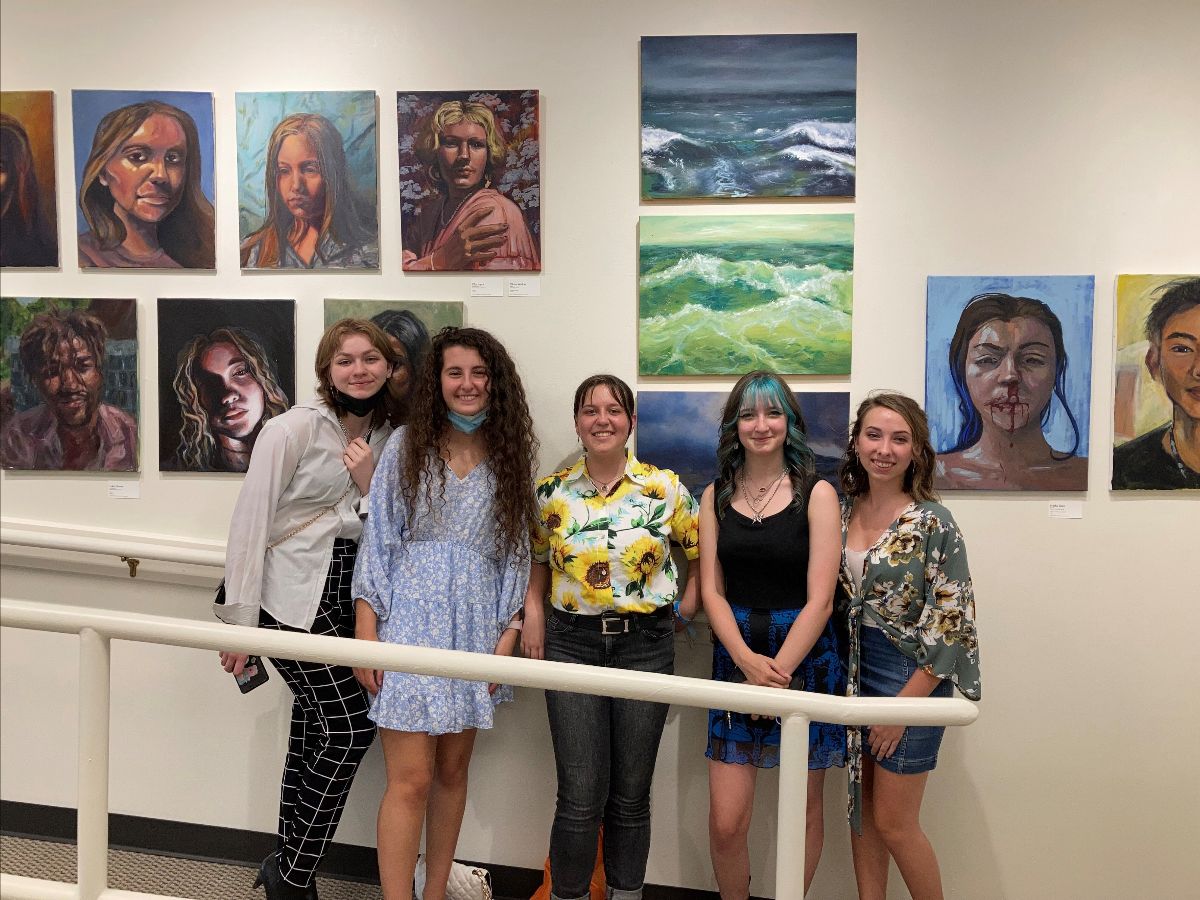 After another unforgettable summer at the Oklahoma Summer Arts Institute, the 2021 Tour de Quartz exhibition is on display at the Paseo Arts and Creativity Center (PACC) in Oklahoma City through August 26. The traveling visual art show features works by the 49 drawing & painting and photography students from OSAI 2021, with upcoming stops in Lawton, Alva, Guymon and more.
This year, we were able to accommodate 10 additional drawing & painting students and a second instructor, resulting in even more jaw-dropping works for this annual student exhibition. These talented young artists spent two weeks developing their skills and exploring new techniques through portraiture with John Hampshire and plein air landscapes with Lisa Lebofsky, and the results on the gallery walls speak for themselves.
The portraits and landscapes on display in the Tour de Quartz are the result not only of this invaluable instruction from world-class faculty, but of the passion and dedication of the artists themselves as they stretch their wings at Oklahoma's Official School of the Arts.
"This experience has been a highlight of my life as an artist," says 16-year-old Julie Macedo, whose acrylic Tour de Quartz portrait Jordan captures a free-spirited joy in its subject. "Within days I was improving my art and myself, and learning techniques and thought processes that changed how I view art and the world around me. Being surrounded by such passionate people every day was an environment I didn't know I needed, until now."
---
Jordan by Julie Macedo (Drawing & Painting '21)

A Line Dance by Isabel Celedon (Photography '21)
---
Meanwhile, our 19 photography students reframed their ideas about photography and were exposed to a variety of historic photo processes, including many camera-less techniques. Photography instructors Claire A. Warden and David Emitt Adams led their students in experiments with photograms and cyanotypes, some of the oldest photographic techniques developed in the 1830s and 1840s, as well as chemigrams and linen painting — all within the span of two weeks.
"I have learned that photography goes beyond the camera," says sophomore Isabel Celedon. Her exhibited photograph, A Line Dance, is a rich black-and-white composition that invites the viewer to consider the profile of a figure cut by a series of horizontal lines. "It's so exciting to be able to return home with new ideas and information to share with others."
To see what amazing young artists like Julie and Isabel have to share after their life-changing summer at OSAI, be sure to check out this stunning exhibition at the PACC in Oklahoma City before the ending of its debut run on August 26. For those outside the metro, there will be plenty of opportunities to catch the show at a gallery near you. For a complete list of touring locations and dates, visit the official Tour de Quartz page on our website.
---
Return to News & Community.
---