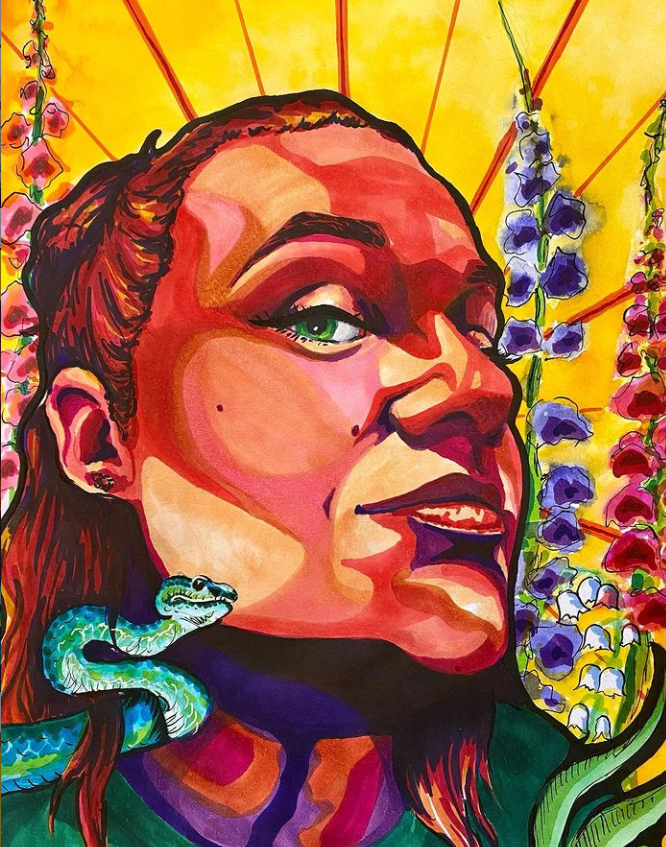 How do you take seemingly incompatible elements and create something new? This challenge galvanizes Morgan Brown (drawing & painting '05, '06). Alongside her collaborative partner and fellow OSAI alum Sydney Brown (drawing & painting '06), the artist and educator is launching a new project featuring mixed-media pieces depicting Oklahoma State Parks. Through plexiglass, foil and determination, the collaboration highlights the can-do spirit Morgan brings to her other role as art teacher at Jenks Middle School – where she was this year recognized as Jenks Middle School Teacher of the Year and JPS District Teacher of the Year – and her upcoming position as counselor coordinator for OSAI 2021 at the University of Science and Arts (USAO) in Chickasha.
Morgan is a watercolorist, while Sydney works primarily in pastels, and she says the two mediums "don't always play nice together." The watercolors bleed into the pastels, breaking down their smooth gradations, and the pastels muddy the watercolors, leaving bits of debris in their unclouded hues. But this was the essence of the project — two different artists combining their visions to show the unrecognized beauty in Oklahoma's landscapes.
"The first time I ever remember working with another artist on one piece was at OSAI when I was a student there," she said. "Our instructor introduced me not only to collaborative artwork, but also installation artwork. We had to pair up and go into town to buy materials at thrift stores. We only had $5 to spend, and we had to come up with something that meant something to us and spoke to our audience on a much broader topic. It was the first time that I didn't feel isolated as an artist. I really felt challenged, and I got to play in that realm. So that's where it all started."
Like so many others, Morgan's time at OSAI was transformative. At Quartz Mountain, the Stillwater native discovered that life as an artist was a real possibility. When she turned 21, she made her way back to OSAI as a counselor-liaison, and continued to return for a record-setting seven summers.
Being an OSAI counselor requires an immense amount of adaptability and responsibility. Ultimately, they are responsible for the health and safety of the students. Counselor-liaisons serve as arts educators, therapists, time-keepers, interpreters, toilet-plungers, spider-relocators, positivity gurus and caretakers with a sixth sense of their campers' whereabouts and well-being. They do all of this on very little sleep, in the energy-sucking heat and humidity of an Oklahoma summer. Morgan finds it all inspiring, and is looking forward to her new role as counselor coordinator, where she'll be bringing her collaborative, make-it-work spirit to the job of overseeing the whole counselor crew.
"I have such big shoes to fill with [former counselor coordinator] Joanna [Hathaway], who's a dear friend and an inspiration in herself," Morgan said. "I think what I'm most excited about is the fact that I'm not necessarily collaborating with the students in the visual arts room anymore, but more with the counselors who are working with all of the students. Helping to facilitate those interactions and those collaborations is something I'm really excited about."
Morgan understands that OSAI is about community and camaraderie, so it doesn't matter where we are as long as we're together. Facilitating that sense of togetherness is a task she's welcoming head-on. "I'm going to really focus on making sure everybody is in the right frame of mind, or help them get in the right frame of mind," she said. "We're here to create something new, and what better place to do that than with a completely blank canvas in a place we've never been before? 'Challenge' is our middle name. That's what we're supposed to be working on. I want to help people harness that idea. If we're challenged by the idea of being somewhere new, then let's use that and make it our own."