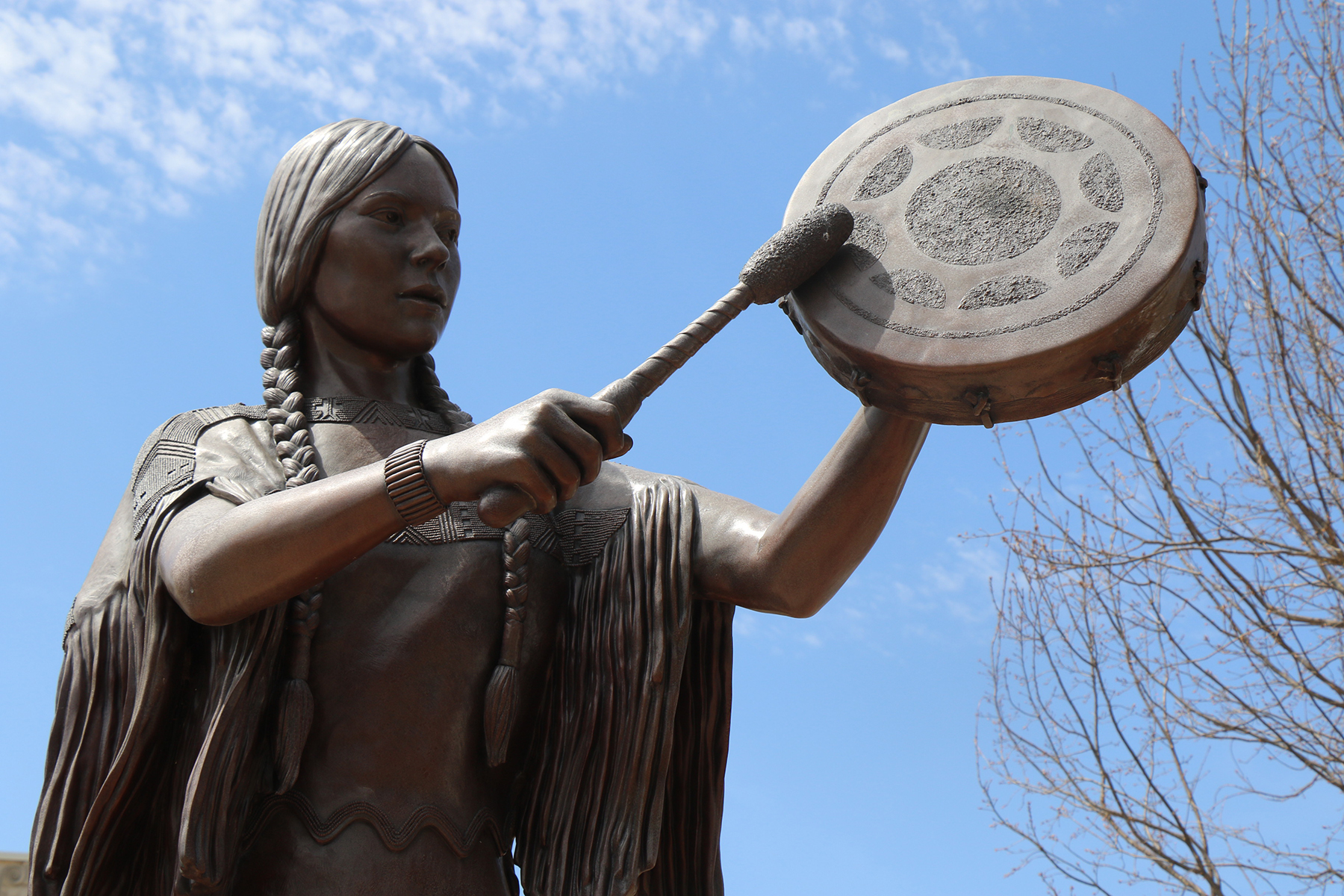 Among the new landmarks OSAI 2021 students will discover at the historic University of Science and Arts of Oklahoma (USAO) campus in Chickasha, one figure towers above the rest. Outside the steps leading up to Trout Hall – one of fourteen campus buildings listed on the National Register of Historic Places – stands the bronzed likeness of alumna Mary (Te Ata) Thompson Fisher, one of the most celebrated Indigenous artists of the 20th century.
The statue of the legendary Chickasaw performer and storyteller, whose adopted name means "bearer of the morning," was unveiled in 2014 during a ceremony featuring tribal dignitaries, state officials and University leadership. When sculptor Jon Hair delivered remarks to the distinguished crowd, he reflected on the courage of the artist from Tishomingo whose craft took her from the verdant campus of USAO (then called the Oklahoma College for Women) to the hallowed halls of Franklin Delano Roosevelt's White House and beyond.
"She was courageous achieving what she did, against all odds – first of all being Native American, and second, being female in this country at a time when [women] were supposed to be seen not heard," Hair said.
Te Ata made herself and her people heard over the course of her long and distinguished career. After being encouraged by theater instructor Frances Dinsmore Davis, Te Ata's senior performance at the Oklahoma College for Women incorporated traditional songs and stories from Native tribes across the United States. This would become the template for the one-woman shows that would make her an international sensation after attending the Carnegie Institute in Pittsburgh and launching her Broadway career in New York City.
"Te Ata brought the beauty and wisdom of American Indian culture to the world in a way that helped develop greater appreciation for core values such as basic human kindness and respect for the natural world," Chickasaw Nation Governor Bill Anoatubby told The Smithsonian. "Her life's work helped bring diverse cultures closer together. She is a shining example of how artistic expression can change hearts and minds."
The Oklahoma Arts Institute sees something of its own lineage in USAO's proud relationship to Te Ata. Our former faculty and guest artists include a number of extraordinary Indigenous artists from Oklahoma such as our first ballet instructor Maria Tallchief (Osage) and the rest of the Five Moons dancers, along with Pulitzer Prize winner N. Scott Momaday (Kiowa), Fritz Scholder (La Jolla Band of Luiseno Indians), Mike Larsen (Chickasaw) and more.
"There were many factors that lead to our decision to host OSAI 2021 at USAO in Chickasha, including the University's deep commitment to the arts," said OAI President and CEO Julie Cohen. "But when we toured and saw Te Ata at the heart of the campus, it really felt like a perfect match."
During USAO's unveiling of the Te Ata statue in 2014, University President John Feaver offered an observation that feels more relevant than ever. "After we're all long gone as active participants in this world, Te Ata will stand on this spot, saying to those who come to gaze on her, 'This is who we've been. This is who we are and this is where we're going,'" he said. "And it's a journey well worth joining."